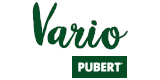 Mix it up and vary the working speed from 28 to 165 rpm! Designed for all tasks in vegetable gardens, including ploughing with optional sound kit
Working width
60cm, 85 cm
Speed(s)
Forward speed x 2 + Reverse speed x 1
PUBERT'S TILLER WITH VARIABLE SPEED

The convertible tiller Vario 65B C3 is the ideal tool to « break » the soil, clean your vegetable garden, plough or ridge your potatoes. It is also a real technologic innovation with its new mechanical gearbox (2 gears forward and 1 gear reverse), conceived and designed by Pubert, with allow aluminium alloy housing and steel processed gearwheels. You will be seduced by its performance and low price level. This "first variable speed tiller" is easily adaptable to different type of work (the working speed can be adjusted step by step from 28 to 165 Rpm).
The helicoidally tines allow an excellent tilling in hard ground. Their additional disks are suited to protect adjacent crops. This tiller enables to prepare soils until a depth of 32 cm. The adjustable spur has a double function, either in hard soil or soft soil.
The elliptic handlebar allow a better gripping, and give softness benefit during tilling. It can be adjusted to fit you. It is also lateral adjustable, it helps user to stay at the side of the machine during tilling. (Without risk of stepping on tilled soil, and efficient work close to wall, hedges, fencing…)
Here is the perfect convertible tiller to prepare and upkeep your soils with similar performances to traditional rototiller.
(For an optimal comfort of use, you can use the pneumatic clutch version, patented Pubert's system)
All type of activity (Maintenance or creation of vegetable garden, soil preparation before seeding)
Performance
Variable speed of working tool + Helical tiller tines
Versability
Multi-taskings, Multi-Accessories as 5' ploughing kit
Reliability
Aluminium gear box, steel sprockets
Recommended land area
(Preparation of vegetable gardens)
Forward speed x 2 + Reverse speed x 1