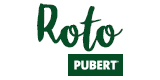 HIGH PERFORMANCE IN DIFFICULT TERRAINS
This type of cultivator is ideal for long distances, on soft, stone-free soil. Flexibility and vibration-free handling
Speed(s)
Forward speed x 1 + Reverse speed x 1
Engine
Briggs & Stratton CR950
THE REAR TINE TILLER BY PUBERT

The rear tine tiller Pubert 400 series was made for working in all conditions and on all type of terrains. It can till thinly and make the soil ready for sowing. It works on areas up to 2500 m² and are made for lengthy tasks.
The ROTO 406 HD is perfect for regular soil upkeep, with the possibility to turn over large areas at a constant depth. Whatever the type of soil, driving those tools will be smoothly and flexible.
Equiped with 2 Forward gears + 1 Reverse, ROTO 406 has a reliable alloy Japanese transmission. This is assurance of lasting performance & complete satisfaction! For a total driving control and to be adapted at any type of soil, all helicoidally tines turn in the same direction than wheels.
Handlebar can be adjusted to fit you. As ROTO 406 is also lateral adjustable, it helps user to stay at the side of the machine during tilling. (Without risk of stepping on tilled soil, and efficient work close to wall, hedges, fencing…)
With its 208 cc Briggs & Stratton's engine, ROTO 406 ensures you strong performances over long distances, with a well-known consumer engine.
Soil preparation over any terrain
Performance
Hight working speed level, perfect crumbling
Comfort
Tractor tires, smoother & effortless ride
Safety
Working tool completely enclosed
Recommended land area
(Preparation of vegetable gardens)
Forward speed x 1 + Reverse speed x 1