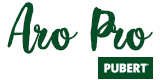 THE PROFESSIONAL TOOL IN ALL SITUATIONS
An ARO designed for endurance and marathons. Can also be equipped for ploughing
Working width
40cm, 60cm, 85 cm
Speed(s)
Forward speed x 2 + Reverse speed x 1
VARIABLE-SPEED PUBERT TILLER FOR HEAVY USE
ARO PRO 55H C3 is a convertible tiller which is fully equipped to break the ground, create your vegetable plot, plough your soil or ridge your vegetables. A revolution in the world of motorised gardening equipment and machines of human dimensions. This professional machine has a mechanical two-speed-plus-reverse gearbox with treated steel pinions designed and created by the Pubert Design Office. You will undoubtedly be astounded by its performances and delighted with your investment. It is a real variable-speed tiller which is extremely easy to manoeuvre and will adapt to all your gardening ambitions. Your machine will be able to work whatever the speed, step by step from 28 to 165 rpm.
The helical shape of the tines enables them to cut into even the hardest of ground effectively. No risk of damaging the crops growing on each side of your work area thanks to the plant-protection disks. The tiller's drag bar is adjustable for hard or sandy ground for a working depth of up to 32 cm.
A single knob allows the handlebars to be adjusted in all directions without tools. You can thus work with the handlebars offset sideways to avoid walking on the finely crumbled prepared soil ready for sowing. This will also enable you to work at the foot of fences, walls or hedges. This same knob will enable you to adjust the controls specifically to suit the height of the user.
It is the ideal convertible tiller to prepare and maintain your land with a professional level of performance. Its robustness is widely recognised, making it the target for professional leasing companies.
With its reinforced chassis and transmission for heavy, repeated use, Aro Pro devours the hours of work without complaint!
All type of activity (Maintenance or creation of vegetable garden, soil preparation before seeding)
Professional using or heavy use
Diversity
Suitable any field
Performance
1 low speed + 1 hight speed + reverse speed
Robustness
Heavy duty chassis & transmission
Recommended land area
(Preparation of vegetable gardens)
Forward speed x 2 + Reverse speed x 1