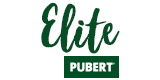 THE EXCELLENCE FOR YOUR GARDEN
Top of the "1 forward + 1 reverse" gearbox machine range. Well-equipped machine for guaranteed low-noise use
Working width
60cm, 80 cm
Speed(s)
Forward speed x 1 + Reverse speed x 1
A RESISTANT, EFFICIENT AND ATTRACTIVE TILLER BY PUBERT
The Elite is an attractive tiller, easy to use which allows to prepare quickly areas up to 2500 m². In its range (1+1 tillers), Elite is certainly the best- equipped and most complete machine on the market.
The reverse gear facilitates maneuvers and allow you to work in your vegetable garden with minimum effort. Its forged tiller tines are dismountable, so you can easily reduce the working width and adapt your work to several row spacing. The helicoidally tines allow an excellent tilling in hard ground. Their additional disks are suited to protect adjacent crops. This tiller enables to prepare soils until a depth of 32 cm. The adjustable spur has a double function, either in hard soil or soft soil.
The elliptic handlebar allow a better gripping, and give softness benefit during tilling. It can be adjusted to fit you. It is also lateral adjustable, it helps user to stay at the side of the machine during tilling. (Without risk of stepping on tilled soil, and efficient work close to wall, hedges, fencing…)
The transport outside garden is facilitated by a front wheel that is retractable during ground working
Elite can be equipped with ridger kit or others accessories like potatoes kit.
It's a complete & efficient tiller, made in France by Pubert.
All vegetable garden maintenance
Capability
80 cm working witdh with reverse speed
Reliability
Mechanical reverse gear
Comfort
Soft and pneumatic clutch
Vegetable garden +/- 800 sq.m
Recommended land area
(Preparation of vegetable gardens)
Forward speed x 1 + Reverse speed x 1